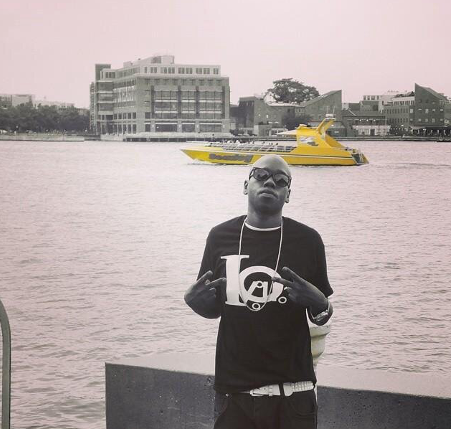 www.ShidLatta.com
Q: At what age did you decide to become an artist?

A: I first started rapping at 6. But I actually wanted to be a rock star before I ever wanted to be a rapper even though I could rap. So, I can say I always wanted to be an artist but decided to be a rapper in 2010 or so (laughs).


Q: Name a few of your biggest influences in hip hop?

A: Biggie, Tupac, UGK, Jay-Z, Nas, Eminem, Three 6 Mafia, The Hot Boys (together and solo), Big Tymers, Outkast, T.I., and so many more!


Q: What are some of the things you're working on right now?

A: I am currently working on my album Love + Other Drugs. Which is my life with a beat, every drop of blood, sweat, or tears that I have shed is going into the album. I think I will be releasing two versions, the first being the raw version and the second being the polished version. The raw version will be exactly that, raw, uncut, and unpolished. Of course, it'll be mixed and mastered but I'm just recorded releasing. The polished version will be nice, neat, and clean. More "Professional." The reason for both is that I am recording my life as I live it and I want to give it to the world straight like that. And for the people that, love or are living it, they will have a soundtrack. But I know that I can reach more people and have more success with the polished version. And it'll just sound better and ain't shit wrong with that (laughs).

I also just started a clothing line called IV.II.O. CLOTHING COMPANY > pronounced (eye-vee-oh). Our slogans are "#LIFTED #GIFTED #BETTER" and "HigherFashion the #LIFTED #GIFTED #BETTER." The goal is to provide ever-growing fashion with a nod to the streets, hip hop, rock, fashion, and originality. And represent 420, the smokers know what that is, and the 420 friendly in a positive light. As well as letting people know that the things that 420 stands for, like peace, togetherness, being proud of who you are and what you do. These are things most people can relate to. Not just lazy stoner shit and incense (laugh). You can check it out at IVIIOCC.COM

Q: What adviadvice you give other upcoming artists?

A: Be original and do you. Let the other artists do what they do best. Find your own thing. And Grind! Don't just record and post it online. Push your music, do promotion and marketing, invest time and money into yourself. If You can't, why would anybody else? Also, network. Talk to people, shake hands and introduce yourself at shows, make sure people know who you are because you personally have informed them. And watch for snakes.


Q: How has life changed for you since becoming an artist?

A: So much shit has happened since I started that has contributed to my music. But the way the music has contributed to me personally is by being a type of therapy for me and letting me vent. And it's making me more focused and goal driven than ever in my life. I actually want something and it's something tangible not just superficial or materialistic.


Q: Have you had the pleasure of performing yet?

A: Yes and I love it! It's nothing like being on stage showing what you do and connecting with the audience. I've only had the chance to perform my new music once. But I'm working on that now. I'm finding more venues and getting better at managing my time between all my other jobs. Between making music, the clothing line, promo, marketing, networking, contracts, I also do graphic design, web design, photography, and more. So I am working on a performance schedule so I can get out there more and finding more venues.


Q: Are there any artists/talent that you've worked withwith, that should be watching?

Oh fuck yea, yeah definitely (laughs)!

Munch4Beats(@Mu (ch4Beats) aka DjK, he produces, raps, engineers, and some more shit. That little muthafucka is talented. And so is his team YCU (Youngins Coming Up) and all the people associated with it. Especially Mally and EMB.

J Black aka 1600 Black aka Smoked Out Black(@SmokedOutBlack), that boy go in and he different from anything you've ever heard and it's all his life, no fake shit. He has a group EST (Empire Street Team) with my homegirl Weedo aka Weedy aka 1600 Weedo(@OhKnoWeedo), that girl spits her ass off.

J. Esq, he isn't very active online right now, far as the music. But he sings, produces, and does a little bit of everything else. He is currently working on his album and working with other artists writing and producing and whatever other magic he can work (laughs).
Q: Describe your music for those who have never heard it.

A: The best way to describe my music is reality rap or real life music. I like the term "actual factual". It's actual facts in my music, I'm not waking up in brand new cars or anything like that (laughs). I talk about what I know, live, love and hate, without dry snitching on myself or giving too much info away. All of my music is true to me from the beats I choose, the lyrics I spit, to the delivery. I try to paint a picture with words while at the same time trying to think of words and a way to deliver them that is as different as possible from anyone else. So I use a lot of rock, pop, and other types of music as an inspiration. Two big non hip hop influences of mine are James Hetfield from Metallica and Lemmy from Motorhead. I have many others but the energy, rawness, and overall feeling that those two put out during a performance, without actually singing singing, is amazing too me. And far as rap I love Biggie...Greatest of all time! Then I love Pimp C. That's just two highly influential rappers too me.

In one article Alex Faulkner writer of thefaulknerreview.wordpress.com/2014/05/28/single-review-bet-that-by-shid-latta/
said "you can hear the influence of his rap heroes Jay-Z, Tupac Shakur and Snoop Dogg in his music."

But I think one writer of beatsta.com/portfolio/introducing-shid-latta/
put it best when he said "Combine the sounds of Outkast, Biggie, UGK, Jay-Z, Eminem, add a bit of rock and pop, and you have a sound close to Shid's. It's not really possible to perfectly describe his sound, or any artist's sound. The best way to put it, is that it's his own music that sounds great."

It's not easy to explain but I promise when you hear it and if you truly listen it will stand out and you won't forget it. Whether it's good or bad, that's for you to decide but I guarantee 90 to 98.995% will fuck with it. The other 10 to 2.005 are deaf, late, or just can't relate to it. But it's my life...Nothing more nothing less.

Q: What inspired you to pursue music?

A: I started writing song at like 6 and that turned into freestyling and rapping in school and around the way and stuff. Then I eventually got a little bit of equipment to record and did it for fun for years. But at some point all of that stopped and I was too focused on running in the streets and doing all kinds of shit and didn't have time for it. I also wasn't going to talk about what I was doing because that shit could put me in jail. So over time I slowed down and wanted to do something different and start to occupy my time with positive shit. On top of all that I got tired of the same old music, from the way niggas was rapping to the beats they were rapping on. And I was really living and doing what most rappers claimed. I also just wanted a way to vent and share my life and story with those who wanted something different and lived what I was talking about and could relate to it. It's like therapy for all, I get to share and get shit off my chest and the people that can relate or just feel it, get to hear the shit that makes them feel something and vibe out. I show them that they aren't alone...We are not alone. Plus I knew I was actually good at rapping compared to others. Then I had a lot more shit happen in my life some legal, some personal so I had to take a year or so off and lost a lot of momentum, fans, motivation, and some more shit. I had to get a lot of shit squared away and taken care of and then the time and opportunity to get back into music presented itself and I jumped on it. So I decided from that point on to start to actually pursue music seriously not just rap and put songs out and hope for the best.

Q: Greatest career accomplishment?

A: My greatest career accomplishment would be my growth/reach and the fact that I have so many fans and reach so many people. I have about 20,000 to 30,000 fans, with over 50,000 to 60,000 plays and downloads, within a short period of time from all over the world. To be featured in so many articles and things such as this and have people view, hear, and enjoy what I do, is an amazing thing. When someone you have never met tells you how much they enjoy what you do and all you've do has just presented your life and express yourself, that shit is a great accomplishment. I've had people tell me they have to listen to my music multiple times a day just because it makes their day that much better. That is an award and reward within itself.

Q: What has been your biggest challenge?

A: Finding venues to perform to perform in my city, time management, and weeding out the bullshit to get to the right people. But that's just what I can think of for now. But the fact that I can even speak on and see my challenges are means I can focus on fixing them and improving myself and career overall. So I could give you a list of challenges or invest my time into to solutions. People like to complain and be upset about shit but don't do much to fix it. I like to look at my challenges as growth opportunities. The more you grow the more challenges you will face.


Q: Favorite Artist? Why?

A: My favorite artist of all time is hands down The Notorious B.I.G. AKA Biggie Smalls! That man is a legend. The flow, the style, the presence... Everything about him was epic! He is one of the reasons I started rapping when I was younger and he was and still is a big influence to me. Even down to the way I breath when I rap on some songs, I be channeling him and Big Pun (Laughs).

Far as living, it's a close tie between Starlito and Kevin Gates. I feel they are the realest, most believable rappers in the game, and I relate to the shit they say. They are part of my lifes soundtrack especially Starlito's Insomnia Addict and Kevin Gates' Luca Brasi Story. That shit they spit is my life. I suggest checking them out and listening to what they are actually saying. That shit is too real.

Q: What are your music career goals?

A: In no particular order:

1. To spread my music and my brand to as many places possible and reach as many people that I can.

2. Change the game for the better. It's too much bullshitting, lying, copying, hating, and just a bunch of fuckery in the game. But why is it like that? If you are truly comfortable with you and you want to entertain people, why bring any of that to the table? Everybody loses except for the people who are making the money off of all of it. The fans suffer the most because they are force fed bullshit while being told it's caviar until they think it's caviar and they really don't know any better. Then, if they ever come across actual caviar they have no fuckin clue what it is or what to do with it. They look at it like it's shit because it's not what they are used to. I think a lot of rappers would sound completely different if they made music for them and the fans and not for the labels and radio stations.

3. Put Baltimore on the map! We got a lot of amazing talent here... All types of genres and sounds. I think the world needs to hear us. But it's a lot of hate and shit here, so first we gotta make the people come together here and realize what we have and push the fuck out of it. And with the Baltimore mentality and drive, we could take over. I had an older guy, I think he was from Virginia, ask me "Where you from, son? Gotta be Baltimore or New York but probably Baltimore." Of course I claimed my city proudly and asked why he had asked and he replied "If you put a Baltimore boy anywhere on earth he will be the center of attention!" We were at the repass (or whatever the thing after a funeral is called) for my then girlfriend's sister. The entire family from the kids to grandparents had surrounded me and everyone wanted to interact with me and get to know me. It wasn't a bad thing, everybody was around me having fun and enjoying themselves. Instead of being sad they were happy and joking and playing and remembering her in a positive light. So, that's the type of vibe we will bring to the game... All eyes on US and you will love it! Everybody would want to fuck with us. #Baltimore!

4. Make money to live like I want and be able to do the same for the people around me. I don't think that needs much explaining. I don't need fame or awards, but they would be nice. I just want to live off of what I love/my life. This is my life, why not put it to use and get paid.

Thank you again! And keep doing the amazing job that you do!