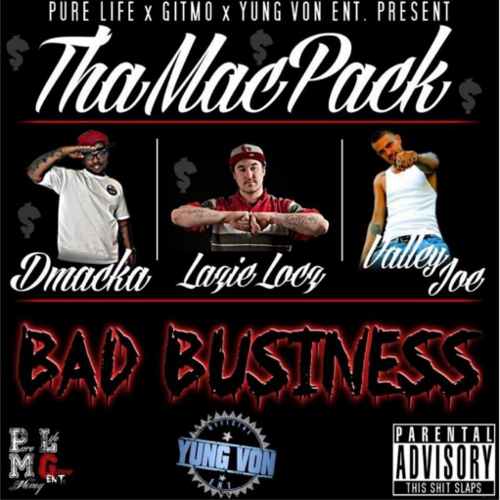 *****GET THE SINGLE BAD BUSINESS NOW ON ITUNES*****
https://itunes.apple.com/us/album/bad-business-single/id734566224?ls=1
What age were you, when you decided to become an artist?
I started writing when I was like 16 or 17 I think. My homie JGathers was always on his music and jus kina influenced me to rap with him. It was mostly just for fun to me but it grew on me as I grew. I went to juvy at 17 and really began writing looking towards making songs and putting more of me into it. Went I came to Sacramento I met lazie locz and really started taking it seriously. Took it to a whole other level. Much love to both of them they really inspire and bring a lot out of me. I owe a lot to them. Salute to them.



Name a few of your biggest influences in Hip Hop?
My biggest influence has always been tupac I suppose but I'm driven and influenced by any hustla, hard worker, and just anyone that's really about their shit. My favorite artists are HD of barefaced, Lil Boosie, E-40, 2Pac, J-Stalin...the list goes on, just shit I relate to and music that keeps me goin and grindin hard.



What are some of the things you're working on now?
Some things I'm working on right now would be mostly our Mac Pack Album "Bad Business" that's droppin November. Going be on iTunes, Dimple Records, LiveMixtapes.com, and in my trunk! We have a goal to push as many of these albums as possible and take this shit to the next level. Real deal album. It's time to really do this shit. We've put a lot into this and it's time to make it happen. I'm also currently working on some solos and beats. I'm just grindin and promoting this shit makin moves and exposing my name everywhere possible. We all have a lot of things in the works right now, big thangs mayne! Yeee (laughs)



What advise can you give other upcoming artists?
Some advice I can give other upcoming artists....I'll try to keep it simple, jus work hard and stay consistent with your craft be an easy to get along with person and always take into consideration other people's opinions, feedback, esp any constructive criticism, build yourself! Knowledge is power indeed. Be patient and fight your pride and ignorance. Develop yourself in your music and jus let your HEART OUT in this shit, push that shit. Grind hard work hard u got to give everything u have to this. Be wise and be about your shit! SelfMade!



How has life changed for you since becoming an artist?
Since I've became an artist things have def grown within me I've always had a deep artistic mind but doing this really brings everything out of u. U find soul and true experiences when chasing your dreams and working hard, and when things pay off its surreal. Music is my life its always in my mind, there's always a beat playin rhymes flippin or a move being made in my mind. Life is def dif since taking this music serious and really becoming an artist. You really got to be dedicated.



Have you had the pleasure of performing yet?
Yes I've performed many shows at a variety of venues in Sacramento and the Bay Area. I've performed with artists such as Taj-He-Spitz, D-Lo, Bone Thugs & Harmony, Husalah & The Mob Figgas, HD of Barefaced, and other headliners as well. I perform shows with my homies Lazie Locz & DMacka, we're "Tha Mac Pack" and we've even headlined a show ourselves not too long ago. We get nothing but love at all our shows and it's a great feeling, esp when u see your fans and people reach out to you..