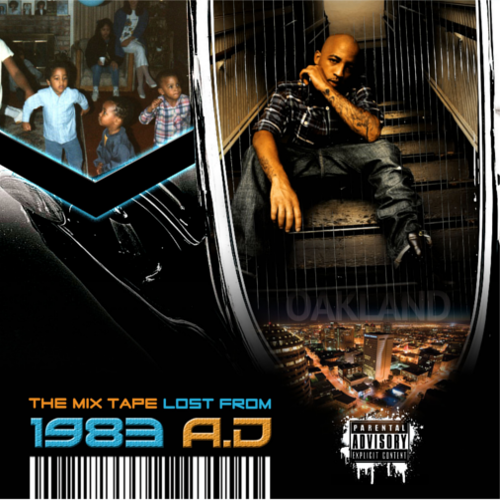 What age where you when you decided to become an artist?
I want to say between the ages of 12 and 13 thirteen I discovered I had a skill for memorizing music and rapping the lyrics as if I wrote them. In the 9th grade me and three of my cousin's put together a squad called B.O.C (Ballin outta control) and we would rock shows, pep rallies and house parties all throughout High School. Football was my main focus though as long as I could remember; rapping was just a hobby at the time.
Name a few of your biggest influences in hip hop?
Growing up music was very influential in our community, the people who made the biggest influence in my life in hip-hop, in the beginning there was 2pac who fathered a lot of the misguided youth from my era on the west coast. Too-Short, E-40 and The Click, Bad-n-Fluence, Spice 1, Mac Mall, Brotha Lynch Hung everything AWOL, Killa Tay, C-bo, Marvaless and Lunasicc. Even though I didn't grow up with him once our paths collided I wanted to be just like my older brother Jeff D. McMillon IV (J-Mac GRIM MUZIK Label Mate)I have so much respect for his contribution to this game and the style he brings, I learned so much from dude man; game and just about life in general. Goodie Mob and Outkast was a big influence as well as Redman and Method Man. The older I got and matured the more my mind got hungrier for game no matter where it came from I was tuned in. There were a lot more artist that had some type of influence on my music in some way can't name them all, I just pulled what I heard from the messages at that time and applied it in A.D Millz fashion!
What are some of the things you're working on right now?
At the moment I'm working on staying in the studio and recording, got to stay consistent and fresh. I just released my 1st Mixtape (1983A.D) available on Datpiff.com and HotNewHipHop.com for free down loads, GO COP THAT!! I've been rocking a couple shows throughout the Bay Area with Nu-Ricks Ent. Draztic Music, D-Lo and Husalah from the MOB Figaz. I'm rocking at the Agenda Lounge next month with Clyde Carson in San Jose, CA. Networking and a steady grind, you know how it is for a starving artist… Hustle, hustle and more hustle!! I'll work with any hungry artist out there that's doing real music man, like Big Krit said "if it don't touch my soul, then I can't listen to it..." if we can make money and dope chemistry together it's good let's work.
What advise can you give other upcoming artists?
Keep god first all the time, no matter the situation. Prepare yourself for the rise and fall, know that you can't please everybody so don't try too. Learn how to appreciate both the love and the hate that comes with this position. Remain FOCUSED at ALL times, be who you are and only you create your own identity. NEVER give up on yourself and push for that dream if you want it! I was told and I quote "the ones closest to you gone stop believing, just make sure you don't!" –Mistah F.A.B. Most importantly know why you doing it!
How has life changed for you since becoming an artist?
My focus and my mindset as far as the business aspect of this game has been the biggest change for me the more I evolve as an artist. Since I moved back home to CA from being In Little Rock since 2002, I've grinded myself into a lot of network opportunities and some future resources I could tap into. I'm still the same ni**a though, lol, me as a person will only change for the better but I will forever stay grounded to who I am. I love to create music that moves people in some type of way. I'm not there financially yet but my mind state has always been like… I'm already there; I feel a certain way about myself and my talent in the ability to create great music… Kinda hard to explain but I'm sure somebody out there feel me! Most of these artists need they ego stroked to feel like they've accomplished something, in my mind I already won! I appreciate all the new/old love and support that's been shown to me lately too, I see y'all (Fan's). Salute.
Have you had the pleasure of performing yet?
I've been performing for a long time, I had the opportunity to rock with some artist I've collaborated with and opened up for a few major artists. Me And Grim Muzik's label mates Y.K and J-Mac shared the stage when we rocked before 8ball and MJG at a club in Little Rock. RoadBlock a group formed by Paranormal (Pnorm) me at the time, Sean Struglz and Freedom was rocking stages from Arkansas to New York getting love and loving what we do. Just to be able to paint that picture while you on stage and interacting with a dope a** crowd that's rocking with you is a feeling unmatched. Plus, I love giving back and mobbin with my people on stage. No stranger to the stage or the mic!
Are there any artists/talent that you've worked with that we should be watching?
Everybody I worked with is a must watch, we all hungry and we all got something to say straight up!! There is a single that's killing the blog talk radio scene right now and getting some FM rotation called "Trunk Muzik" Feat. Myself (A.D Millz)and Mistah F.A.B. by my folks Y.K. Some west coast slap for y'all to knock too! Make sure you go support that at places like Itunes and amazon pretty much anywhere online they selling music or request at your local radio station. Madam T is from my city, Oakland, CA I linked up with her through Y.K we both were on a Mixtape Grim Muzik had released and when I heard her spittin I was feeling her delivery and style off top so I reached out to her shot her a beat I got from pOETiqbEETz she sent me the hook and verse (serious) and the rest will be history. The Queen of the west coast Marvaless did some work for me, got that brewing… be on the look out!! My bwoy Buda representing that I.E (Inland empire) featured on the (1983A.D Mixtape) Is also a HEAVILY slept on artist that's moving mean out hear trying make the world listen to what we out here giving y'all, a message with a cause. I have an unreleased single titled "P.O.A.M (presence of a man) Feat. Ferocious another dope musician outta the "A" state, I was hearing dude name the whole stretch I was in da Rock, had to get bruh on something. It's so many to name, I've had the honor to work with some extremely creative cats in the booth over the years and through the journey. All who deserve some sort of recognition, this is my S/O to all I shared a studio with and ideas. Keep god first and let him work!! One luv, Peace!